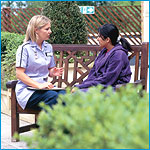 Ensuring that our services meet the expectations of all our patients is vital to us. Every patient is invited to complete a questionnaire which gives the opportunity to comment on every aspect of their stay with us. We are proud that 96% of patients say they would recommend us to their family and friends.

Every questionnaire is analysed by the Hospital Manager so that any particular areas for service improvement, such as the provision of information, nursing care, speed of attention and the quality of the food, can be identified. This also allows the Hospital Manager to investigate and respond to any specific concerns raised.

Comments or Complaints
All comments and complaints are taken seriously regardless of their nature: medical, nursing, accommodation, food or administration. The sooner you make comments - particularly complaints - the better. This allows us the opportunity to rectify the problem when it occurs. If you want to make a comment or complaint please approach the hospital staff who have been looking after you, or alternatively, ask to speak to Matron or Head of Nursing.

If your concerns are not resolved to your satisfaction, then please contact the Hospital General Manager in person, in writing or by telephone.

In the unlikely event of you remaining dissatisfied after the Hospital General Manager has looked into your complaint we would encourage you to write to the relevant Divisional Director at:

North
Divisional Director
Divisional Office, Harrogate
Yorkshire
HG2 0HP
Tel: 01423 567 136

Midlands
Divisional Director
Divisional Office Midlands
Wood Road, Tettenhall
Wolverhampton
WV6 8LE
Tel: 01902 754 177

South West
Divisional Director
Divisional Office South West
GroveField, Hatherly Lane
Cheltenham
GL51 6SY

South East
Divisional Director
Divisional Office South East
Taj House, 1-4 The Cresent
Surbiton
KT6 4BN
Tel: 0208 390 1200

Our policy is to investigate complaints sympathetically, fully and promptly and to use your comments to improve and develop our services. In this way, we aim to achieve the best possible care for all our patients.