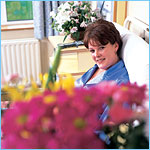 Taj Hospitals provides healthcare in all its forms - from a simple blood test to a diagnostic scan and from dental services to complex surgery.

Our surgical procedures cover a wide variety of needs. From hip replacements, hernia repairs, cataract removal to cosmetic surgery, we aim to provide the facilities and treatment patients need.

Our diagnostic imaging departments offer diagnosis through ultrasound, digital spot imaging, computerised tomography and magnetic resonance imaging. In our pathology laboratories, modern analysis techniques deliver fast results.

Specialist outpatient clinics are available to deliver a growing number of services, including the treatment of asthma and diabetes, and in vitro fertilisation.

Preventative healthcare is an increasingly important part of our work. Taj Hospitals Health Screening enables early detection of problems, supported by advice and recommendations.